Best selling books on women's health by Dr Marilyn Glenville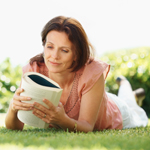 In these books, you will discover the things you need to know about your health and learn how to regain control of your life and stay healthy, naturally. You will discover the facts every woman should know about:
How to treat female hormone and other women's problems, naturally
What tests you can take to find out your present condition
How to boost your energy, improve your health and balance your emotions
Practical and simple ways to control bingeing and food cravings
What vitamins and minerals are vital for improving your condition
How to combine natural medicine with conventional medicine for best results
How to improve your sex drive
Each book gives you step-by-step practical advice on what choices are available to you and how you can help yourself by taking control of your health. You will find lots of useful information to help you decide which treatment, tests, diet and supplements will be most beneficial to you. Whatever your problem, there will be something here that can help you.
For more information click the book that is of interest to you.