"How to stay healthy before, during and beyond the menopause."
'Internationally renowned expert on women's health' – Daily Mail '[You are] a wonderful breath of fresh air in the confusing world of the menopause and HRT. I have acted upon, and benefited immensely from your advice – thank you.' 'I have been aware of Marilyn Glenville's work for ten years now and indeed have been treated by her on several occasions. I find her a very sane, sensible and interesting practitioner and I trust in her judgement … the issue that interests us all is how to age well and healthily and that prevention is far better than cure.'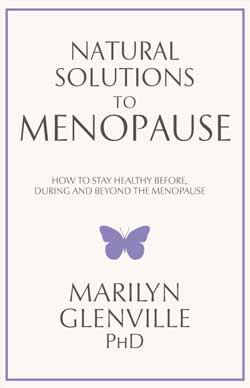 A Natural Approach to a Natural Stage in your Life
At last, the definitive guide to a drug-free, symptom-free menopause and enjoying a long and healthy life beyond it. Based on years of clinical practice, Dr Marilyn Glenville, PhD, reveals what doctors don't tell you and gives you simple, easy-to-follow natural solutions for getting and staying healthy before, during and after the menopause.
Written by the UK 's leading expert in women's health and with Dr Glenville's guidance, the 'Change' needn't be a challenge, as thousands of women she has helped will testify. Like them, you too can successfully manage your menopause symptoms, boost your energy, lift your mood, enjoy a ful?lling sex life and be in the best of health throughout the menopause and beyond
In this ground breaking book Dr Glenville unravels the science and dispels the myths around the menopause. Inside you will discover:
A Twelve-Step Hormone Balancing Diet
How to relieve common symptoms including hot flushes, nights sweats, vaginal dryness and lack of energy
The truth about HRT and bioidentical hormones
Practical advice on supplements and herbs
Top tips for slowing down the ageing process
Natural Solutions to preventing long-term health problems such as osteoporosis, breast cancer and Alzheimer's
Contents:
Acknowledgements
Introduction Part One: Preparing your body for the menopause Chapter 1: What's going on with my hormones?
Chapter 2: My Twelve-Step Hormone Balancing Diet
Chapter 3: Exercise – for today and tomorrow
Chapter 4: Anti-ageing and how to slow down the clock
Chapter 5: Lifestyle changes Part Two: Going through the menopause Chapter 6: Have you started to go through the menopause?
Chapter 7: What to eat and what to avoid
Chapter 8: How supplements and herbs can help you
Chapter 9: Keep moving
Chapter 10: How to control your weight
Chapter 11: HRT and bioidentical hormones
Chapter 12: Tests and scans Part Three: Beyond the menopause – a new beginning Chapter 13: Through the menopause
Chapter 14: Your diet, food supplements and exercise
Chapter 15: Osteoporosis – how to prevent, stop and even reverse it
Chapter 16: Other health risks and conditions after the menopause
Chapter 17: Tests and scans to monitor your ongoing health
Chapter 18: The good news Appendix
Food nutrient sources
Useful resources
Index
"So if you want a practical and comprehensive guide that tells you what you need to know to make informed choices about your health now and in the future you should send for this book now."
If you would like to learn more about natural solutions to the menopause then please visit Menopause information page.
Natural Solutions to Menopause is published by Macmillan
Other best selling health books by Dr Marilyn Glenville:
"Natural Alternatives to Dieting"
"Natural Solutions for Dementia and Alzheimer's"
"Natural Solutions to Menopause"
"Osteoporosis - How to Prevent, Treat and Reverse it"
"The Natural Health Bible for Women"
"Healthy Eating for the Menopause"
"The Nutritional Health Handbook for Women"