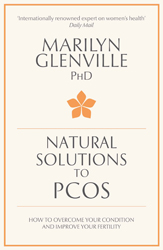 Proven Solutions to Beat PCOS and Enjoy a Symptom-Free Life, Naturally
.If you are suffering from the symptoms of Polycystic Ovary Syndrome, such as excess hair, acne, weight gain and irregular or no periods, then this book is for you.Dr Marilyn Glenville PhD has helped thousands of women overcome PCOS and now you too can benefit from her unique, nutritional programme.
Inside you will discover:
What is PCOS, how is it diagnosed and what you can do about it
A 7-step diet to get your hormones back in balance and beat PCOS
The most effective supplements and herbs to help eliminate your symptoms
How to boost your fertility to help you get pregnant
Clear information on the drugs and surgery your doctor can offer
Based on 30 years experience in her clinics, this tailor-made programme doesn't just focus on the symptoms but looks at the causes and takes a holistic, natural approach. And although it is proven to be effective on its own, Marilyn also lays out the medical options so you can make an informed decision the most effective treatment for you.
Contents:
Acknowledgements vii Introduction 1
PART ONE: PCOS
Chapter 1 What is PCOS?
Chapter 2 Diagnosing PCOS
Chapter 3 Your Medical Options
PART TWO: Natural Solutions to PCOS
Chapter 4 The Seven-Step Diet to Beat PCOS
Chapter 5 How to Use Supplements and Herbs
Chapter 6 Controlling Your Weight
Chapter 7 Exercise
Chapter 8 Your Hair and Skin
Chapter 9 Stress and PCOS
Chapter 10 Environmental Hormone Disruptors
PART THREE: Living with PCOS
Chapter 11 Your Fertility
Chapter 12 Pregnancy
Chapter 13 Nutritional Tests that are Useful in Treating PCOS
Chapter 14 Safeguarding Your Future Health
Chapter 15 Beyond PCOS
Appendix I: Criteria for Diagnosing PCOS
Appendix II: Food Nutrient Sources
Useful Resources
Notes
Index
"So, if you would like to improve your chances of  beating PCOS you should send for this book now."
If you would like to learn more about pcos then please visit the PCOS information page.
Natural Solutions to PCOS is published by Macmillan
Other best selling health books by Dr Marilyn Glenville:
"Natural Alternatives to Dieting"
"Natural Solutions for Dementia and Alzheimer's"
"Natural Solutions to Menopause"
"Osteoporosis - How to Prevent, Treat and Reverse it"
"The Natural Health Bible for Women"
"Healthy Eating for the Menopause"
"The Nutritional Health Handbook for Women"