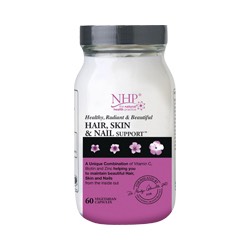 A special nutritional formula for health, radiance and beauty to help you to maintain beautiful hair, skin & nails from the inside out!
This special formula is for those women who want to look after themselves from the inside out by providing nutrients that can help with maintaining healthy hair, skin and nails. This combination is specifically formulated for health, radiance and beauty and is a special combination of carefully chosen nutrients for women.
Your hair and nails can reflect your body's state of health and nutritional intake. So to ensure well-nourished hair and strong nails, it is vital to maintain a healthy balance of nutrients.
Skin is the largest and one of the most complex organs of the human body and is responsible for the removal of a variety of toxins. This of course means that much of what is going on inside our bodies will quickly be reflected in the appearance of our skin.
In order to maximise your chances of having healthy hair, skin and nails, it is essential that you are obtaining the right nutrients and in the right quantities to enhance your success.
To make things easier and more convenient for you I have formulated a very special supplement and it contains the most important nutrients scientifically known to help. It contains antioxidants (like rutin, vitamins C, vitamin E, grapeseed extract, selenium and zinc), nutrients such as MSM and lysine and other nutrients like biotin, horsetail, inositol, choline and vitamin B12. This combination provides you with a daily amount of all these nutrients to help you to maintain beautiful hair, skin & nails from the inside out.
I have ensured that this supplement includes only the highest quality and most essential nutrients scientifically known to be important.
If you would like to order this special multivitamin and mineral supplement, you can do so through the Natural Health Practice by clicking the button below:
This supplement is a very special combination containing a number of well researched nutrients including:
Ingredient list:
2 capsules per day provides the following amounts
| | |
| --- | --- |
| MSM | 200mg |
| L-Lysine | 150mg |
| Vitamin D (d-alpha tocopherol) | 138mg |
| Vitamin C | 100mg |
| Horsetail Herb | 100mg |
| Inositol | 80mg |
| Choline Bitartrate | 80mg |
| Grape seed extract | 70mg |
| Rutin | 60mg |
| Zinc (citrate) | 20mg |
| Biotin | 400mcg |
| Selenium (methionine) | 50mcg |
| Vitamin B12 | 40mcg |
Why these ingredients?
Antioxidants – like rutin, vitamin C, vitamin E, grapeseed extract, selenium and zinc which can all help to slow down the ageing process
MSM, Lysine and vitamin C – all help with the manufacture and strengthening of collagen
Biotin – for maintaining healthy hair and skin
Horsetail – which provides a natural source of silica for strengthening hair and nails
Inositol and choline – for promoting hair growth
Vitamin B12 – for healthy cell growth
This supplement has been produced to the highest possible standards with all the ingredients being:
  In their most bio-available form to aid absorption
  Free from gluten, yeast and dairy
  Made without the use of artificial flavours, colours or preservatives
  No fillers or binders used including no magnesium stearate
  100% active ingredients
  Herbs are organic where possible
  Suitable for vegetarians
  Kosher
  Contained in vegetarian capsules
So if you are interested in helping yourself naturally and then there is no better supplement to help you.
If you would like to order this special multivitamin and mineral supplement you may do so through the Natural Health Practice by clicking the button below: