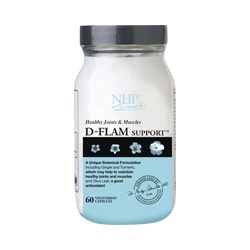 Formulated specifically for when you want to soothe and calm your body.
Many people suffer from stiffness and swelling and have difficulty moving. Joints are the pivotal areas where bones in the body connect, enabling us to achieve mobility. Muscles, attached to our joints provide the force and strength to move the body. Although piloted by the brain, the body's actual ability to move is reliant upon the condition and health of our muscles, joints and bones.
This special formula is for those people who want to increase their chances of having healthy joints and muscles.
To make things easier and more convenient for you I have formulated a very special supplement and it contains the most important nutrients scientifically known to help. It contains carefully chosen botanicals including ginger and turmeric, olive leaf, quercetin, hops and black pepper.
I have ensured that this supplement includes only the highest quality and most essential nutrients scientifically known to be important.
If you would like to order this special multivitamin and mineral supplement, you can do so through the Natural Health Practice by clicking the button below:
This supplement is a very special combination containing a number of well researched nutrients including:
Ingredient list:
2 capsules per day provides the following amounts
| | |
| --- | --- |
| Turmeric | 600mg |
| Olive leaf | 130mg |
| Ginger root | 100mg |
| Quercetin | 80mg |
| Hops | 30mg |
| Black pepper | 10mg |
Why these ingredients?
Ginger and turmeric – may help to maintain healthy joints and muscles
Hops – to calm tissues
Olive leaf and quercetin – two powerful antioxidants to help support healthy joints
Black pepper – to soothe
This digestive health supplement has been produced to the highest possible standards with all the ingredients being:
  In their most bio-available form to aid absorption
  Free from gluten, yeast and dairy
  Made without the use of artificial flavours, colours or preservatives
  No fillers or binders used including no magnesium stearate
  100% active ingredients
  Herbs are organic where possible
  Suitable for vegetarians
  Kosher
  Contained in vegetarian capsules
So if you are interested in helping yourself naturally and then there is no better supplement to help you.
If you would like to order this special multivitamin and mineral supplement you may do so through the Natural Health Practice by clicking the button below: